By Ashnah Kalemera|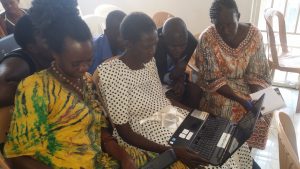 Under the ICT4Democracy in East Africa initiative, the Women of Uganda Network (WOUGNET) has initiated 12 forums in eastern Uganda, which will use various Information and Communication Technologies (ICT) tools, as well as offline methods, for social accountability.
The forums, each comprised of 12 members, were formed in the districts of Tororo and Busia in October 2016, expanding the network of WOUGNET's Voluntary Social Accountability Committees, or VSACs, who monitor and report on service delivery failures and mobilise citizens to participate in governance processes.
Members of the forums include representatives from Local Councils, as well as members of pre-existing community water, health, agriculture and education management committees. They also include representatives of youth, women, Persons With Disabilities (PWDs) and persons living with HIV/AIDs groups.