By Juliet Nanfuka |
Last month, the Alliance for Affordable Internet (A4AI) released its Affordability Report 2017 which indicated that while the world will this year mark a significant milestone of 50% global internet penetration, large numbers of women in developing countries remain offline because "they cannot afford to connect."
The A4AI report's findings echo earlier reports on the longstanding gender digital gap that is the result of prevailing social and economic barriers including illiteracy, gender roles and various forms of discrimination. In 2013, a report by the Broadband Commission estimated that 200 million more men than women accessed the internet. Similarly, according to the International Telecommunications Union (ITU), in 2016 the difference between the Internet user penetration rates for males and females was largest in Africa (23%) and smallest in the Americas (2%).
By Ashnah Kalemera|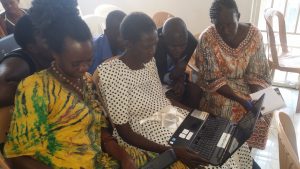 Under the ICT4Democracy in East Africa initiative, the Women of Uganda Network (WOUGNET) has initiated 12 forums in eastern Uganda, which will use various Information and Communication Technologies (ICT) tools, as well as offline methods, for social accountability.
The forums, each comprised of 12 members, were formed in the districts of Tororo and Busia in October 2016, expanding the network of WOUGNET's Voluntary Social Accountability Committees, or VSACs, who monitor and report on service delivery failures and mobilise citizens to participate in governance processes.
Members of the forums include representatives from Local Councils, as well as members of pre-existing community water, health, agriculture and education management committees. They also include representatives of youth, women, Persons With Disabilities (PWDs) and persons living with HIV/AIDs groups.
By Ashnah Kalemera |
Human rights violations incidents are on the rise in Kenya with extrajudicial killings and police brutalityamong the cases reported recently. Social media has enabled quick reporting of such cases while also creating increased awareness of the reported incidents. Through a mix of Twitter, radio and physical engagements, the Kenya Human Rights Commission (KHRC) is improving its effectiveness in promoting human rights and documenting violations in the lead up to the 2017 national elections.
The commission is seeing success in mobilising citizens for protests and marches, as well as getting stakeholders to participate in debates related to human rights. Through quarterly Twitter chats, the KHRC is popularising various human rights issues and bringing to the fore struggles faced by communities that have little online presence and who have limited avenues for participating in community affairs.
By Ashnah Kalemera |
In pursuit of strategic mechanisms to promote and protect human rights in Tanzania, the Commission for Human Rights and Good Governance (CHRAGG) has this year embraced the use of digital technologies to advance the right to health among vulnerable communities and human rights practitioners in five regions in Tanzania.
In August 2016, CHRAGG embarked on a campaign that leverages its SMS for Human Rights reporting system to improve rights awareness and protection for some hitherto marginalised groups. Under the drive, up to 100 commission staff at the head office in Dar es Salaam and three regional offices (Mwanza, Lindi and Zanzibar) have been trained to improve their understating of the right to health and to enable them to appropriately handle related violation reports received through the digital platform.
The CHRAGG training also benefited 190 individuals including sex workers, the elderly, women, health practitioners and local leaders who were trained on the principles of the right to health and how to monitor and report rights violations. Most of the training beneficiaries (61%) were female.
The intersection of Information and Communication Technology (ICT) and civic engagement continues to gain popularity as more citizens adopt the use of tools to engage with each other, and with civic organisations and the state. While empirical evidence suggests that the rate at which this is happening remains debatable, the ICT4Democracy in East Africa network is using various forms of ICT tools to promote civic participation in Kenya, Tanzania and Uganda and working to overcome challenges such as gender and geographical disparity in use of ICT.
By Making All Voices Count | Communication between the state and citizens is an essential element for an equal and just society. Growing social inequalities, lack of proper public services, and denial of basic human rights all act to widen existing communication gaps.
Key to bridging these gaps is ensuring not only that citizen voices are heard, but also that states have the capacity and incentive to listen and respond. As much of the literature on accountability focuses on citizen voices, a group of researchers from Ghana, Kenya, South Africa and Tanzania – in collaboration with the Institute of Development Studies – decided to look at state responsiveness. Read more
By John Walubengo | The 2017 electioneering period has really and truly kicked in. Is the country ready to deal with the discourse that is emerging in the blogosphere and spilling into the real world?  With a large number of Kenyans, most of them young people, actively online, a large part of next year's general election is likely to be fought online.
Unfortunately, the online agenda is likely to mirror the offline agenda, which is characterised by retrogressive, tried-and-tested tribal contours. As a generation that has failed to live up to the Kenyan Project, as Dr Ndii so provocatively described it, the least we can do is to try and inspire future generations to succeed where we failed.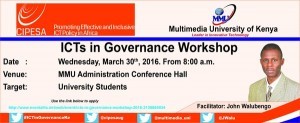 Interested in ICT? Interested in how it can be used to promote good governance in Kenya? Do you have your sights set on championing the path that ICT Governance in Kenya takes? Are you a University Student in Kenya? If you answered yes to all, then this workshop is for YOU! Read more
By John Walubengo | Have ICTs enhanced political participation, social accountability, public service delivery and citizen engagement in East Africa in the recent past?
These were the research questions behind a study commissioned by CIPESA, a regional think tank focusing on ICTs in East and Central Africa. In Kenya's case, the answers are found in its recently published ICTs in Governance report. Some, which make for interesting reading, are highlighted below.
By Ashnah Kalemera | The Rwenzori sub-region of western Uganda, Information and Communication Technology (ICT) tools have been key tools in promoting public accountability and improved service delivery. Through an ICT "convergence approach" that combines SMS, radio and online polling, Toro Development Network (ToroDev) has for the past five years promoted information and knowledge sharing for citizens' engagement with their leaders on priority service delivery needs and concerns in the region. Read more