By Shitemi Khamadi |
Bloggers are poised to get legal knowledge on what laws can be used to charge them, thanks to a training hosted by the Bloggers Association of Kenya. The training to be held in Nairobi and Kisumu will see bloggers gain knowledge on what not to post, the rights of arrested persons and the legal framework governing the internet.
"We are heading into the elections yet many bloggers and Kenyans online do not know which sections of the law anyone can use to charge them. This training will improve their knowledge on this critical issue", said James Wamathai, a Director at BAKE. Read more
The intersection of Information and Communication Technology (ICT) and civic engagement continues to gain popularity as more citizens adopt the use of tools to engage with each other, and with civic organisations and the state. While empirical evidence suggests that the rate at which this is happening remains debatable, the ICT4Democracy in East Africa network is using various forms of ICT tools to promote civic participation in Kenya, Tanzania and Uganda and working to overcome challenges such as gender and geographical disparity in use of ICT.
By Making All Voices Count | Communication between the state and citizens is an essential element for an equal and just society. Growing social inequalities, lack of proper public services, and denial of basic human rights all act to widen existing communication gaps.
Key to bridging these gaps is ensuring not only that citizen voices are heard, but also that states have the capacity and incentive to listen and respond. As much of the literature on accountability focuses on citizen voices, a group of researchers from Ghana, Kenya, South Africa and Tanzania – in collaboration with the Institute of Development Studies – decided to look at state responsiveness. Read more
By John Walubengo | The 2017 electioneering period has really and truly kicked in. Is the country ready to deal with the discourse that is emerging in the blogosphere and spilling into the real world?  With a large number of Kenyans, most of them young people, actively online, a large part of next year's general election is likely to be fought online.
Unfortunately, the online agenda is likely to mirror the offline agenda, which is characterised by retrogressive, tried-and-tested tribal contours. As a generation that has failed to live up to the Kenyan Project, as Dr Ndii so provocatively described it, the least we can do is to try and inspire future generations to succeed where we failed.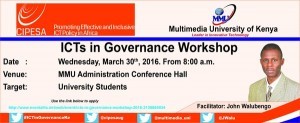 Interested in ICT? Interested in how it can be used to promote good governance in Kenya? Do you have your sights set on championing the path that ICT Governance in Kenya takes? Are you a University Student in Kenya? If you answered yes to all, then this workshop is for YOU! Read more
By John Walubengo | Have ICTs enhanced political participation, social accountability, public service delivery and citizen engagement in East Africa in the recent past?
These were the research questions behind a study commissioned by CIPESA, a regional think tank focusing on ICTs in East and Central Africa. In Kenya's case, the answers are found in its recently published ICTs in Governance report. Some, which make for interesting reading, are highlighted below.
Edited by Nanjira Sambuli & Varyanne Sika |
Late last year, I accompanied the Executive Director of Mzalendo when she went to deliver awards to some of the winners of Shujaaz Awards. The awards were part of an undertaking that recognized efforts by Members of Parliament whose activities in the House had the biggest positive impact on the Common Mwananchi. The winners were chosen via public voting that was conducted through Twitter. Read more
WOUGNET with financial support from the Swedish Program for ICT support to Developing Countries (Spider) conducted awareness raising meetings in the District of Tororo and Busia in Eastern Uganda from the 23rd -27th of September 2013. The awareness meetings was aimed at introducing the new project to the district and mapping stakeholders and partners to be involved in the Project.
The Senior Program Officer, Gender and ICT Policy Advocacy, Ms. Goretti Z. Amuriat met a number of District leaders including the Resident District Commissioner (RDC) and the Chief Administrative Officer of Busia, Mr. Okumu Christopher. Ms. Amuriat briefed them about the SPIDER Upscale project in their offices last week and Mr. Okumu said that he believes that it will be one of the best projects in his district and since it is targeting mainly women, he is so happy about it and welcomes it to Busia
Meanwhile, the Resident District Commissioner, Tororo decried the state of Corruption and mismanagement of public resources in the district as well as poor active engagement of local people in holding their leaders accountable and welcomed the new project with open arms.
WOUGNET received financial support from Spider to implement projects aimed at promoting Citizen participation for improved social service deliveries through use of ICTs. This Project was originally piloted in Northern Uganda districts of Apac, Kole, Gulu, Oyam and Amuru.