By Daniel Mwesigwa
For many citizens across Africa, technology has not only bridged the communication gap between citizens and businesses, but also between governments and citizens. The potential of technology in enabling citizens to participate in governance processes, access public services, and engage with duty bearers has largely gained prominence due to the high internet penetration rates, increasing use of social media and a rise in civic consciousness.
At a recent civic tech showcase in Uganda, it emerged that, as in the rest of Africa, there was growing potential and enthusiasm in the country, with a wide variety of tools deployed by government, civil society and technologists to facilitate social accountability and citizen journalism. The challenge however, remains of creating awareness among citizens for wider adoption of the tools and collaboration among actors to ensure synergies and avoid duplication of efforts.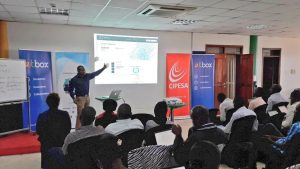 In his presentation, Outbox hub founder Richard Zulu showcased Code4Africa, a federation of autonomous country-based digital innovation organisations, which champions the Hacks/Hackers movement and funds promising civic tech tools and initiatives in Africa. Among the tools incubated by Code4Africa which  Zulu presented were Pesacheck for fact-checking, HURU map for visualising census data, SADC medicines to combat fake drugs through authenticating and verifying medicine and drugs, Siyanza to facilitate open procurement, and Dodgy Doctor by Kenya's Star media to track quack doctors. Zulu cited the success of these tools as an indication of the potential of civic tech for Uganda's software developer community.
Ray Besiga, the developer of URB, an Android mobile app that crowdsources information about state of services and utilities in Kampala city, remarked that through his app, city authorities had responded to some reports including those on poor road infrastructure. Besiga stated that he was hopeful there would be more responsiveness from city authorities who appear keen on bettering service delivery through the use of technology. Haroon Kakembo from Kampala City Council Authority (KCCA) had earlier presented User.ug, the authority's electronic system for monitoring construction works in Kampala City. He said a similar monitoring tool was under development for solid waste management in the city.
Other Ugandan civic tech tools showcased:
1) M-Omulimisa: an app that was initially developed to link farmers and extension workers. The application has now been transformed to monitor service delivery in Eastern and Northern Uganda. In addition to enabling information exchange between farmers, since July 2016 the platform has also enabled users to report service delivery gaps to local authorities through the short code  8228.
2) Parliament Watch: through a website and social media, Parliament Watch monitors, analyses and reports on proceedings of the Parliament of Uganda. It leverages Periscope and Facebook Live to hold digital dialogues and engage Members of Parliament (MP) on pressing issues while also utilising conventional methods like community dialogues to link MPs with their constituencies.
3) Yogera was developed by a team at the Ugandan tech hub Hivecolab, as a citizens' engagement platform that connects citizens to government through crowdsourced responses from the public. It seeks to promote whistle-blowing and celebration of "hero" duty bearers.
4) Citizen reporter: a platform that allows citizens to contribute to stories in the newsroom by submitting stories from their communities using a mobile application.
In a panel on the topic "What motivates anyone to do what they do in civic tech?", speakers explored avenues for promoting collaboration amongst civil society, government, private sector and the technical community of designers, coders and hackers who  often work in  silos in tech hubs and incubation centres. The panel comprised of representatives from Spark Plug, the Department of Journalism at Makerere University and the National ICT Authority (NITA), Uganda.
In conclusion, speakers and participants averred that although a growing number of civic and social tech platforms exist in Uganda, their low utility can be attributed to several factors including lack of awareness, limited and expensive internet. Additionally, most of the tools have not been translated into local languages and thus adoption remained restricted to users literate in the English language.
Like similar engagements held in Tanzania, it is hoped that the Uganda event will be a springboard for  increasing knowledge and awareness, and promoting opportunities for collaboration among technologists and actors in the transparency, accountability and human rights arena. For Uganda, the prospects look positive with the government's commitment of UGX 13 Billion (about USD 3.6 million) for civic tech innovation in the 2017/18 financial year.
The Uganda civic and social tech showcase was organised by Outbox Hub and the Collaboration on International ICT Policy for East and Southern Africa (CIPESA) under the auspices of  the ICT4 Democracy in East Africa Initiative which works to promote civic participation, transparency and accountability in Kenya, Uganda, and Tanzania through the use of technology. The event attracted over 45 participants including representatives from government, civil society organisations, the software development community and the media.
Read more about the ICT4Democracy in East Africa civic and social tech showcase series here.