By John Walubengo |
The 2017 electioneering period has really and truly kicked in. Is the country ready to deal with the discourse that is emerging in the blogosphere and spilling into the real world?
With a large number of Kenyans, most of them young people, actively online, a large part of next year's general election is likely to be fought online.
Unfortunately, the online agenda is likely to mirror the offline agenda, which is characterised by retrogressive, tried-and-tested tribal contours.
As a generation that has failed to live up to the Kenyan Project, as Dr Ndii so provocatively described it, the least we can do is to try and inspire future generations to succeed where we failed.
So Multimedia University and CIPESA organised a workshop titled "ICTs in Governance" last week, where 50 students selected from various Kenyan universities were brought together to discuss how to use ICTs to promote good governance.
The workshop, graced by ICT Ministry PS Victor Kyalo, looked at how ICTs can be used by citizens, particularly bloggers, to hold the government to account in a positive and constructive way.
The PS noted that positive criticism, intended to correct and enhance progress, was most welcome and encouraged. However, positive criticism tends to be costly in terms of the research effort required to come up with alternative solutions to whatever it is the government was grappling with.
Many youthful bloggers, therefore, prefer the lazier option, where they post sensational and often defamatory content without substantiation, leading to unnecessary confrontation with various government agencies.
The motive for such bloggers is often to increase their online visibility by gaining many followers in the shortest time possible, at whatever the cost.
How can citizens and bloggers move from a level where they thrive on short-term sensational news to a level where they can articulate, substantiate and sustain issues of national importance?
The short answer is capacity building. It is wishful thinking for the government and other stakeholders to imagine that the quality of social media conversations is going to be any different without investing and building capacities of bloggers to engage positively.
Indeed, a strategy of clamping down on irresponsible bloggers is likely to be counter-productive since they can and will often play the victim – leaving the government with more problems, as it comes out looking like the big bully.
POWER OF THE HASHTAG
Government crackdowns are easily interpreted as despotic, with the intention to clawing back hard-earned democratic gains. Freedom of expression as enshrined in the Bill of Rights of the 2010 Constitution is often cited in arguments against the government.
Perhaps a better and more sustainable approach is to built the capacity of a critical number of citizens to a point where they are able to articulate and debate issues of national importance – without necessarily playing the tribal card or violating the rights of others.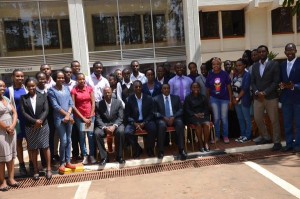 During the workshop, many such examples of responsible blogging by citizens were shared and included #SomeOneTellCNN, #SpeechYa500K and #Waiguru, among others.
In the #SpeechYa500K campaign, Kenyans on Twitter (#KOT) put pressure on the government to cancel a tender that would have squandered half a million shillings on airlifting copies of the President's Jamhuri Day speech across eight regions of Kenya.
Surely, not in this day and age of instant communication that includes email, Facebook, Twitter and websites, among others!
Kenyans on Twitter protested hard and furiously until the government withdrew the tender.
In the #SomeOneTellCNN campaign, #KOT put pressure on the global media house to pull down a story that had painted Kenya as a "hotbed of terror". Eventually, Kenya came out as a "hotbed of innovations".
More recently, the #Waiguru campaign kept up pressure on the scandals surrounding the National Youth Service, pushing the former Cabinet secretary to step down.
So there are positive ways of keeping the government, the opposition, corporations and individuals in check using ICT. However, the same ICT tools can be used equally effectively to destroy public order.
Negative ethnicity and mobilisation using ICTs remain some of the greatest challenges as we move into next year's general election. The capacity and maturity of citizens and bloggers will dictate how successfully we navigate this challenge.
Mr Walubengo is a lecturer at the Multimedia University of Kenya, Faculty of Computing and IT. Email: jwalubengo@mmu.ac.ke, Twitter: @jwalu
This article originally appeared in the Daily Nation